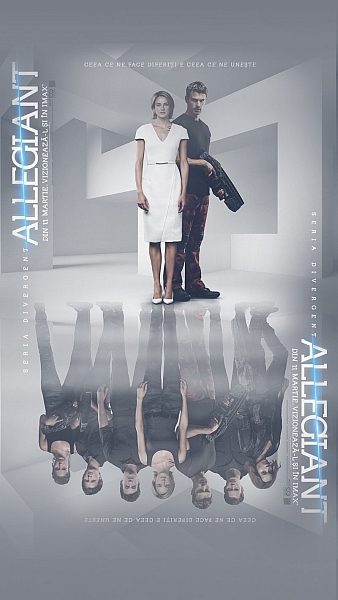 Lifestyle Digital si Freeman Entertainment te trimit la film!
Revolta a inceput in Divergent, iar in Insurgent razboiul a devenit iminent. Din 11 martie, Allegiant te va duce dincolo de zidurile care inconjoara orasul. Aliantele se schimba, adevaruri socante ies la iveala, iar Tris si Four trebuie sa infrunte pericole necunoscute. Lumea cladita acum 100 de ani in jurul celor 5 factiuni a inceput sa se clatine, iar batalia pentru umanitate incepe.
Raspunde la intrebarea de concurs si poti castiga una din cele 3 invitatii la filmul Seria Divergent: Allegiant.
Invitatiile sunt valabile la Cinema City Sun Plaza din Bucuresti, de luni pana vineri. Castigatorii afisati pe site pot merge la film cu buletinul si cu mailul de confirmare pe care il vor primi (printat sau pe telefon), care contine perioada de valabilitate a invitatiei.
In Allegiant, aceasta actrita interpreteaza rolul lui Evelyn, mama lui Four (Theo James). Actrita celebra pentru rolurile din King Kong, Mulholand Drive sau The International este si castigatoarea a doua premii Oscar pentru 21 Grams si The Impossible. Care este numele ei?
a. Naomi Watts
b. Kate Winslet
c. Maggie Q
Din 11 martie, Allegiant, a treia parte a seriei fenomen Divergent vine pe marile ecrane din Romania in premiera mondiala. Shailene Woodley, Theo James, Naomi Watts si Jeff Daniels se intorc cu si mai multa actiune si suspans in Allegiant, un film eveniment bazat pe bestsellerul international. Mergi la cinema din 11 martie!