In linistitul orasel Derry, Maine, raul revine iar si iar, lasandu-si amprenta asupra oamenilor, marcandu-i pentru totdeauna. In anul 1989, este randul micilor tocilari din Losers' Club sa-l infrunte pe maleficul clovn Pennywise, care ia forma propriilor lor temeri ascunse. IT e lucrul de care ti-e cel mai frica. IT se hraneste cu groaza pe care ti-o inspira.
Raspunde la intrebarea de concurs si poti castiga 3 invitatii la IT valabile la Cinema City Sun Plaza din Bucuresti.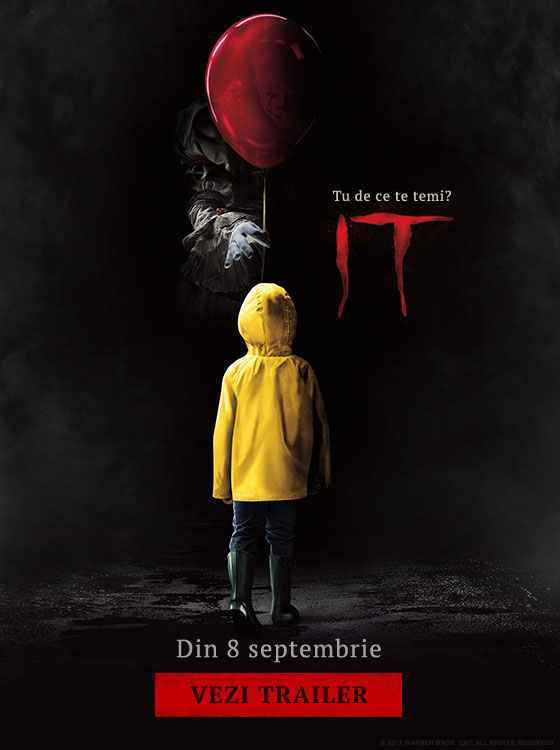 Invitatiile sunt valabile la Cinema City Sun Plaza din Bucuresti, de luni pana vineri. Castigatorii afisati pe site pot merge la film cu buletinul si cu mailul de confirmare pe care il vor primi (printat sau pe telefon), care contine perioada de valabilitate a invitatiei.
Filmul IT este prima adaptare pentru marile ecrane a celebrului roman IT, despre creatura demonica terorizeaza un orasel din Maine. Autorul emblematicului roman IT a mai semnat capodopere precum The Shining, Carrie, Christine, Cujo sau The Mist. Care este numele sau?
a) Stephen King
b) John Saul
c) Thomas Harris
Warner Bros. Pictures si New Line Cinema prezinta IT, un film eveniment bazat pe romanul cu acelasi nume al maestrului absolut al genului horror, Stephen King. Pennywise, personajul emblematic care a legitimat frica de clovni, vine pe marile ecrane din 8 septembrie. Pregateste-te de o experienta unica si incredibil de intensa, in care emotia si umorul se imbina cu fiorii de teama. Un horror thriller distribuit in cinematografele din Romania de Vertical Entertainment. Mergi la cinema din 8 septembrie. Tu de ce te temi?
© 2017 Warner Bros. Ent. All rights reserved.
Update:   Perioada de concurs  este 5.09 – 20.09