Trupele aliate sunt incercuite pe plaja de la Dunkirk. Aproape 400,000 de oameni sunt prinsi fara scapare de un inamic care ataca din aer, din apa si de pe pamant. Sunt captivi. Vanati. In ochii lor, mult prea tineri, e teama si curaj, disperare si speranta. Asteapta un miracol. Si miracolul vine de la cei de acasa, marinari de ocazie, navigatori de weekend, care le vin in ajutor atunci cand armata nu o face. Pe tarmul de la Dunkirk incepe o cursa impotriva timpului si a mortii.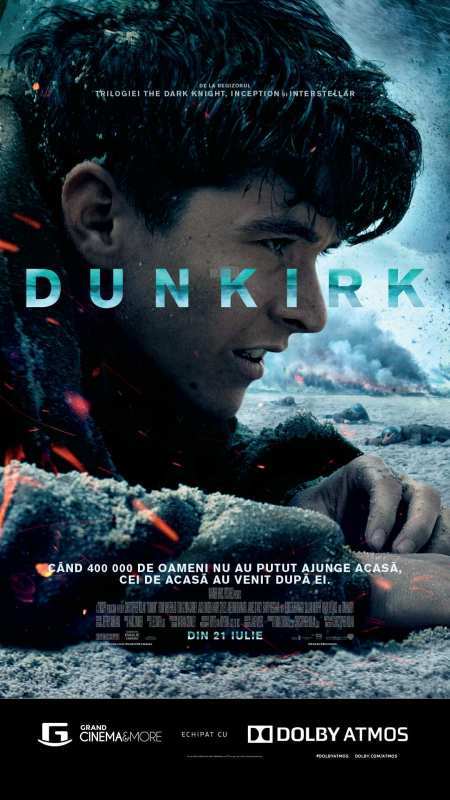 Raspunde la intrebarea de concurs si poti castiga 3 invitatii la Dunkirk, valabile la Cinema City Sun Plaza din Bucuresti.
Invitatiile sunt valabile la Cinema City Sun Plaza din Bucuresti, de luni pana vineri. Castigatorii afisati pe site pot merge la film cu buletinul si cu mailul de confirmare pe care il vor primi (printat sau pe telefon), care contine perioada de valabilitate a invitatiei.
Acest actor, care interpreteaza rolul unui pilot la bordul unui Spitfire, a jucat in filmele lui Nolan, Inception si The Dark Kinght Rises, dar si in Mad Max: Fury Road si The Revenant, pentru care a fost nominalizat la Oscar. Care este numele sau?
1. Tom Hardy
2. Harry Styles
3. Cillian Murphy
Din 21 iulie, Christopher Nolan, regizorul Inception, The Dark Knight si Interstellar iti aduce pe marele ecran o experienta organica, viscerala, un film pe care nu il vezi, il simti: Dunkirk. Christopher Nolan semneaza scenariul si regia unei capodopere de o anvergura epica, in care tehnologia de ultima ora si geniul regizoral redau toata drama, emotia, teama, insufletirea, zgomotul infernal, disperarea si speranta in fata spectatorului care e adus pe nesimtite in mijlocul evenimentelor. Dunkirk, un film de o magnitudine incredibila, cu Tom Hardy, Mark Rylance, Kenneth Branagh, Cillian Murphy, Aneurin Barnard, Harry Styles, James D'Arcy, Jack Lowden, Barry Keoghan, Tom Glynn-Carney. Vino sa traiesti la maximum suspansul care-ti va taia respiratia intr-un thriller care te va marca. Dunkirk, din 21 iulie la cinema. Vizioneaza-l si in IMAX.
© 2017 Warner Bros. Ent. All rights reserved.