Te pregatesti de petrecerea de Craciun cu colegii? Sucuri, cel mult o bere, un pahar de vin, conversatii fortate, un pic de dans, plictiseala. Mai gandeste-te!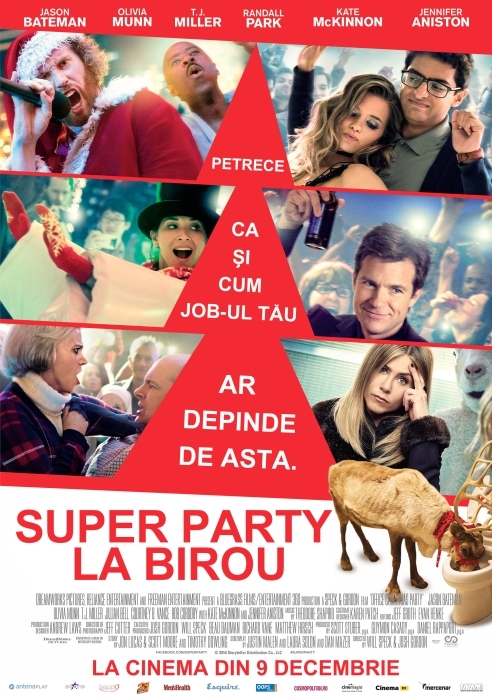 Raspunde la intrebarea de concurs si poti castiga 3 invitatii la Super Party la Birou, valabile la Cinema City Sun Plaza din Bucuresti.
Invitatiile sunt valabile la Cinema City Sun Plaza din Bucuresti, de luni pana vineri. Castigatorii afisati pe site pot merge la film cu buletinul si cu mailul de confirmare pe care il vor primi (printat sau pe telefon), care contine perioada de valabilitate a invitatiei.
Numeste o comedie in care Jennifer Aniston si Jason Bateman au jucat impreuna.
a) Horrible Bosses
b) We're The Millers
c) The Change-Up
Dezlantuie-te ca la carte dupa un an intreg de munca. Ia lectii de la Jennifer Aniston, Jason Bateman, T.J. Miller si Olivia Munn. HO HO HOarda de nebuni! Mergi la cinema sa vezi comedia Super Party la Birou si, dintr-o data, petrecerile corporatiste vor avea un cu totul alt sens!
Cea mai nebună comedie de sarbatori deschide sezonul petrecerilor: Super Party la Birou ajunge în premieră din 9 decembrie în cinematografele din toată ţara. Un film distribuit de Freeman Entertainment, cu Jennifer Aniston, Jason Bateman, Vanessa Bayer, Jillian Bell, Jamie Chung, Rob Corddry, Abbey Lee, Kate McKinnon, T.J. Miller, Olivia Munn, Karan Soni, Courtney B. Vance si Matt Walsh.