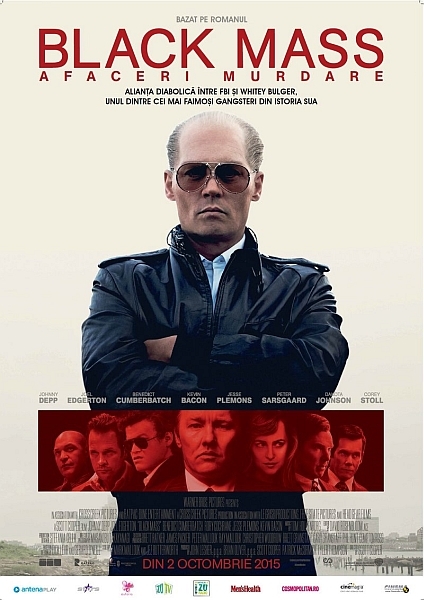 Lifestyle Digital, Warner Bros. si Freeman Entertainment te invita la film!
James "Whitey" Bulger (Johnny Depp) a inceput ca infractor marunt. Curand, s-a implicat in toate activitatile ilegale posibile: trafic de droguri, santaj, escrocherie, frauda si crima. Tot orasul Boston tremura la auzul numelui sau. Dar abia cand a facut pactul cu FBI avea sa devina unul dintre cei mai temuti gangsteri din istoria SUA. Manipuland FBI-ul sa ii poarte razboaiele in locul sau, a putut face orice. A ignorant orice regula, a incalcat toate legile, a devenit puternic si aproape de neatins.
Raspunde la intrebarea de concurs si poti castiga 3 invitatii la filmul Black Mass: Afaceri Murdare.
Invitatiile sunt valabile la Cinema City Sun Plaza din Bucuresti, de luni pana vineri. Castigatorii afisati pe site pot merge la film cu buletinul si cu mailul de confirmare pe care il vor primi (printat sau pe telefon), care contine perioada de valabilitate a invitatiei.
In Black Mass, faimosul gangster James "Whitey" Bulger este interpretat de acest actor versatil, de 3 ori nominalizat la Oscar pentru performantele din Sweeney Todd: The Demon Barber of Fleet Street, Alice in Wonderland si the Pirates of the Caribbean franchise. Care este numele lui?
Brad Pitt

Johnny Depp
Din 2 octombrie, afla povestea adevarata a aliantei diabolice dintre FBI si Whitey Bulger in Black Mass: Afaceri Murdare. Un film intens si fascinant, cu Johnny Depp intr-un rol senzational, alaturi de Benedict Cumberbatch, Joel Edgerton, Jesse Plemons, Peter Sarsgaard, Dakota Johnson, Corey Stoll si Kevin Bacon. Black Mass: Afaceri Murdare, o productie Warner Bros. Pictures distribuita in Romania de Freeman Entertainment. Mergi la cinema din 2 octombrie.
©2015 Warner Bros. Ent. All rights reserved.