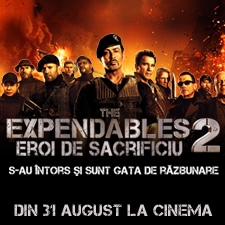 In 2010, cei mai mari eroi de actiune ai tuturor timpurilor au jucat impreuna, in premiera absoluta, in acelasi film. Sylvester Stallone, Jason Statham, Jet Li, Dolph Lundgren, Eric Roberts, Randy Couture, Mickey Rourke, Arnold Schwarzenegger, Bruce Willis si Terry Crews s-au inarmat din cap pana in picioare si au adus pe marile ecrane o operatiune exploziva, intr-un film dur si plin de actiune: The Expendables / Eroi de Sacrificiu. In 2012, lucrurile iau si mai multa amploare. Alte doua mari legende ale filmelor de actiune se alatura distributiei The Expendables 2. Rezultatul exploziv il vezi doar la cinema din 31 august.
Raspunde la intrebarea de concurs si ai sansa sa castigi una dintre cele 3 invitatii duble la filmul Eroi de Sacrificiu 2. Invitatiile sunt valabile la Cinema City Sun Plaza www.cinemacity.ro.
Care sunt cei doi mari eroi de actiune care s-au alaturat distributiei Eroi de Sacrificiu 2?
– Chuck Norris si Jean Claude Van Damme
– Jackie Chan si Harrison Ford
– Pierce Brosnan si Steven Segal
Concursul dureaza pana pe 11 septembrie inclusiv! Castigatorii pot merge la film in perioada 13-27 septembrie!
MediaPro Distribution iti aduce Eroi de Sacrificiu 2, un film plin de testosteron, actiune si adrenalina. Din 31 august, mercenarii iau cu asalt cinematografele din Romania.